9 Adorable DIY Thanksgiving Place Settings for Kids
by Kim Grundy
Turn the Thanksgiving kids' table into the cool table with these adorable ideas for place settings. From "thankful" placemats to handprint cookies and personalized place settings, we're sure you'll find Thanksgiving place settings that you love.
Turkey leg place setting
Kids and adults alike will get a kick out of these personalized turkey legs. Use a small paper treat bag and stuff with a filler, such as newspaper, and push in the corners to make them rounded. Use pinking shears to create the jagged edges. Card stock serves as the turkey bone and decorative heart. Use a stapler to attach the bone and to close the edges. Peel and stick letters can be used for the name or you can even have the kids write their own names.
Photo credit: Fiskars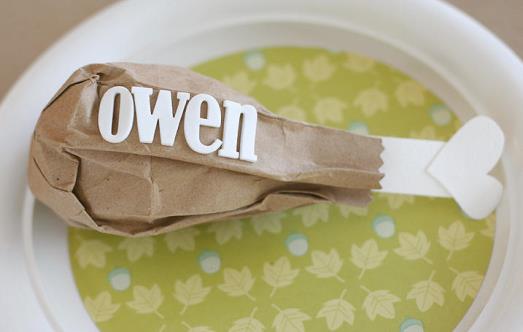 Edible turkey and pilgrim hat place settings
This place setting is sure to be a hit because not only is it adorable, but it doubles as dessert. Although they are so cute, it may be hard eating them. Who are we kidding? They will be gobbled up in no time. The turkeys are made from Oreos, peanut butter cups and Whoppers, with candy corn creating the feathers.
The pilgrim hats are made from marshmallows dipped in chocolate and perched on top of a Fudge Stripe cookie. Head on over to ourbestbites.com for the complete tutorial for both the turkey and the pilgrim hat.
Photo credit: Ourbestbites.com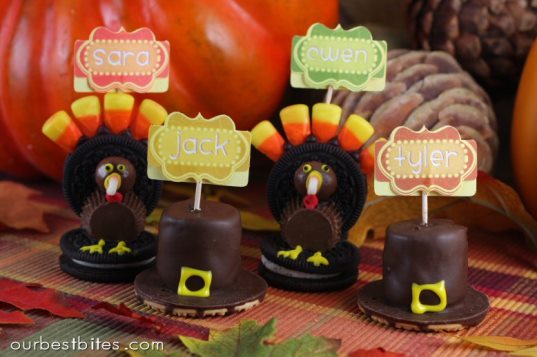 Pilgrim hats coloring table
This place setting is not only cute, but it keeps the kids busy while at the dinner table. Use kraft paper to line your table to create a crayon-friendly surface. To make the cups, cut out the bottom of a black paper cup (or paint a white one black) and turn it upside down. Glue to a black circle cut out of construction paper or card stock and create the buckle on the hat with construction paper as well. Fill with crayons and watch your kids create table masterpieces.
Photo credit: Fiskars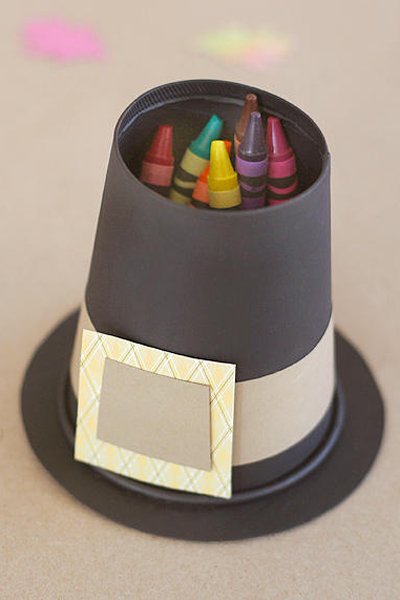 Handprint turkey cookies
These colorful, cute (and tasty) handprint turkey cookies would make the perfect addition to your Thanksgiving table. Trace your child's hand on a piece of card stock and use that template when cutting out your sugar cookie dough. Use colorful candy beads for the decoration and icing to personalize with each person's name. Check out beeinourbonnet.com for the complete tutorial.
Photo credit: Beeinourbonnet.com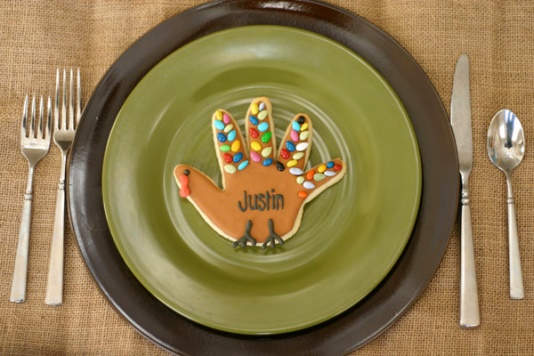 Place card turkey
Using ice pop sticks, colorful washi tape and a block of wood, these personalized place card turkeys are easy to make (in fact, the kids can help). They also make a great keepsake item for the grandparents to take home.
Photo credit: Keepingitsimplecrafts.com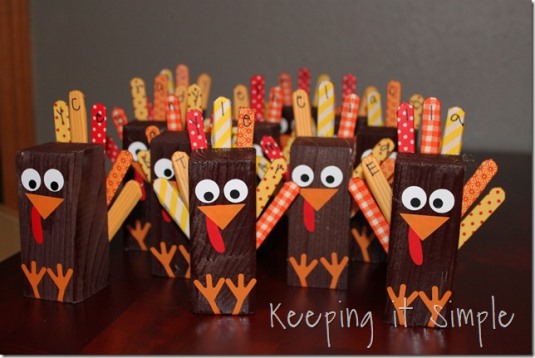 Photo place settings
There is no mistaking which seat is yours with these fun photo place settings. Use a cut-out printable for the body (she used Indian characters, but you could also find printable pilgrims or turkeys as well) and personalize it with the photo and feathers. Check out her website for the complete tutorial.
Photo credit: Jennwa.blogspot.com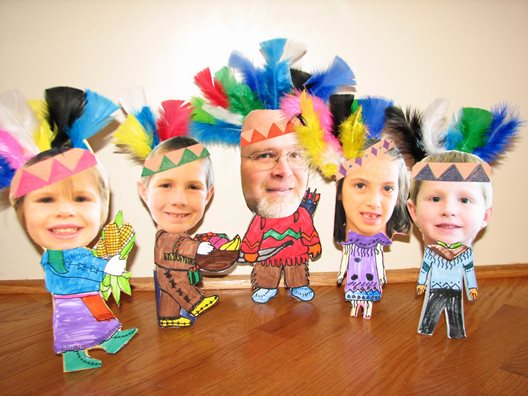 Pinecone place cards
Not feeling so crafty — or perhaps you are running out of time? These pinecone place cards are cute, classy and easy to put together in no time. Download these printable Thanksgiving place cards from ALittleClaireification.com, personalize them and glue them on a piece of cardstock. Place them in the top of a pinecone and set next to each place setting.
Photo credit: Alittleclaireification.com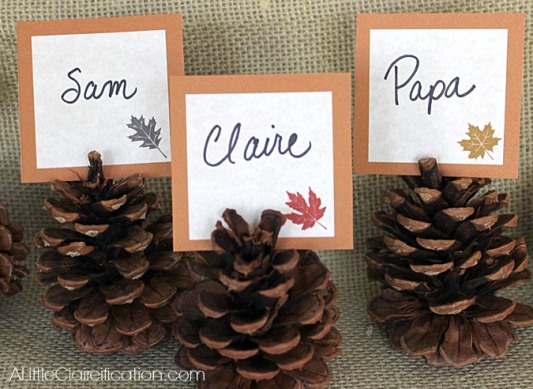 Thanksgiving chalk placemats
These Thanksgiving chalk placemats are such a great idea for kids because they keep them busy and allow them to write and share all of the things they are thankful for. To make your own, start with Chalk Cloth (it is a material that looks like chalkboard, but is actually fabric) and use colorful fabric for the back, which she used bias tape to attach to the chalk cloth. That's right — no sewing needed. Check out Flamingotoes.com for the complete tutorial.
Photo credit: Flamingotoes.com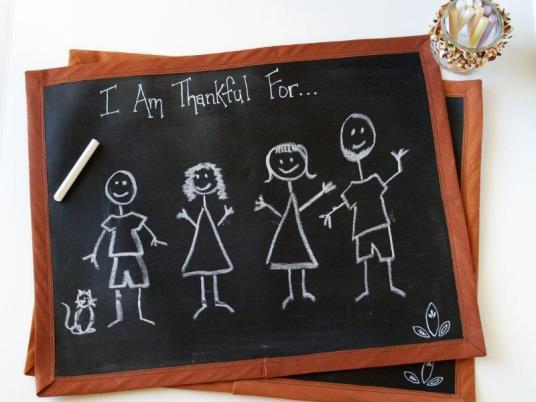 http://www.sheknows.com/parenting/articles/1053775/adorable-diy-thanksgiving-place-settings-for-kids