Rehearsal Dinner Tips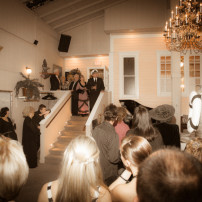 A wedding is something you've planned since you were a child, whether you'll admit it or not, but not everyone thinks about all the things leading up to the big day. The rehearsal dinner is one of the most important nights before the wedding; it allows both sides of the family to come together and meet, many for the first time, as well as you and your significant to celebrate all the wonderful moments that led up to making the biggest decision of your lives. If you're planning your wedding this year, take a look at these few tips to help make your rehearsal dinner extra special.
Make it Personal
Weddings have a way of ballooning into family reunions, so put the focus back on you and your fiancé at the rehearsal dinner by adding a few creative, personal touches. Whether it's a "how we fell in love" slideshow or heart felt speeches made to one another. Keeping the focus on the two of you will make the rehearsal dinner more intimate and special.
A Gourmet Gathering
In your fantasy wedding reception, your guests enjoy a five-star, seven-course culinary extravaganza paired with pricey wines. But, alas, given your budget reality (not to mention your picky teenage cousins!), you've opted for a three-star, three-course repast for the main event instead. Hence the beauty of the rehearsal dinner: with its much smaller guest list, it offers the perfect opportunity to explore a more refined, more exciting menu. So go ahead and reserve the private dining room at Mary's and enjoy a gourmet dinning experience your guests won't soon forget.
Getting There In Style
It is always a nice gesture to arrange transportation from the rehearsal location or the hotel where many of your out-of-town guests are staying to the rehearsal dinner site. Not only does it get people instantly mingling, but, you and your guests don't have to worry about anyone drinking and driving, and no one gets stuck in traffic or lost. With a little foresight, you can match the transportation to the theme of your event, or honor someone special. Reserve some of your future hubby's favorite muscle cars to chauffeur your guests around town, or escort them in style to your Art Deco venue in vintage cars from the 1920s and 30s. George Rose of Elegant Journey Limousine can give you some inspiration.