"Are you Mary?"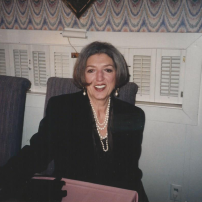 I am often asked, "Are you Mary?" My short answer to that is, "No, but
we thought enough of her to keep her name when we bought this place
over 25 years ago." Mary Licos, who opened Mary's Restaurant in 1980,
died this week. We knew she had recently moved to the upper
northwest part of the country to be closer to family, but were sad to
hear this news. We still have many customers whose love for the place
started over thirty-five years ago, when Mary and her mother "YaYa"
first opened their door. There are so many interesting stories of those
days, and we never tire of hearing them. David started working here
five years before he decided to purchase the place, so he has fond
memories of Mary as well. An era has ended, but we like to think that
as long as "Mary's Restaurant" stands, and continues to be the place
where folks love to celebrate their birthdays, anniversaries, and any of
life's grander moments, then she will live on. Cheers, Mary! We are so
fortunate to be continuing what you started!