America's 10 Oldest Restaurants
I found this article very interesting and wanted to share it with my dining friends and readers.  I hope you enjoy it as much as I did.
~Carla
 Old '76 House
Tappan, New York "The oldest dining room in America" is how owner Robert Norden, 49, describes the Dutch tavern, built in 1686. Diners savor blueclaw crab cakes, roast duckling and Yankee pot roast in the same spot where Continental Army Commander-in-Chief George Washington met with his generals, and colonists took the first steps toward American independence. Originally known as Mabie's Tavern, colonists gathered at the eatery on July 4, 1774, to adopt the Orangetown Resolutions protesting British taxation and occupation of Boston Harbor. In 1780, the tavern was used as a jail for British Maj. John Andre after he was caught conspiring with Continental Army Gen. Benedict Arnold to gain control of the fort at West Point, N.Y.
King George II Inn
Bristol, Pennsylvania In 1681, Samuel Clift began ferrying wagons across the Delaware River between Bristol and Burlington, N.J., and opened the Ferry Inn where travelers could eat and stay overnight. In 1735, a grander King George II Inn was built on the site, attracting famous guests such as President James Madison and his wife, Dolley. Today, the inn boasts five elegant dining rooms and a varied menu that includes seafood, steak, meatloaf and mushroom ravioli. A riverside view while dining inside or outside remains one of the landmark's attractions.
The Pirates' House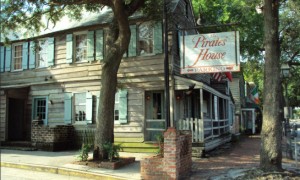 Savannah, Georgia A 1734 brick gardener's house, built soon after James Oglethorpe and his colonists arrived in Savannah, serves as two of the restaurant's 15 dining rooms in the historic restaurant one block from the Savannah River. In the 1750s, the gardener's house became a tavern and inn frequented by seafarers and pirates. Today, diners marvel at the wooden-pegged, rough-hewn ceiling beams and rare editions of Treasure Island, which contain references to the inn. Popular menu items include honey pecan fried chicken, Savannah crab au gratin, shrimp and grits, and Southern pecan pie.
Old Talbott Tavern
Bardstown, Kentucky Since opening its doors in 1779 as a stagecoach stop, Old Talbott has offe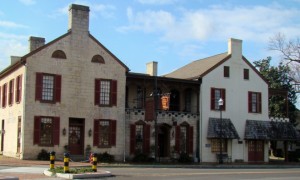 red food, drink and shelter in a building noted for its beautiful Flemish stonework. Famous guests have included frontiersman Daniel Boone and steamboat inventor John Fitch. The most requested menu item is the Hot Brown sandwich, made with bread topped with sliced ham and turkey and Mornay sauce, and garnished with tomato and bacon. A chef who worked at Louisville's Brown Hotel during the 1920s when the sandwich was created brought the creation to Old Talbott. Fried chicken, seafood and steaks are other favorites. The most requested beverage is Kentucky bourbon, served at the world's oldest bourbon bar.
 The Golden Lamb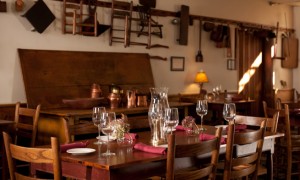 Lebanon, Ohio When Jonas Seaman opened the inn and tavern in 1803, he chose an easy-to-illustrate name since some pioneers couldn't read. Today, customers can feast like one of the eatery's famous customers. The guest list has included 12 U.S. presidents and English novelist Charles Dickens, who has a dining room named in his honor. Furnishings include more than a hundred antique Shaker tables, chairs, chests and cupboards. One of the most popular menu items is Sister Lizzie's Shaker Sugar Pie, made from a recipe found in one of the cabinets of Ohio's oldest inn. Specialties include fried chicken, roast turkey, lamb loin, and yeast rolls with apple butter.
The Log Inn
Warrenton, Indiana In 1825, Henry Haub built the one-room log inn on the stagecoach route between Evansville and Vincennes, Ind., and Indiana's oldest eatery has been welcoming hungry travelers ever since. In 1844, Abraham Lincoln dined at the stagecoach stop while campaigning for Henry Clay for president. In the 1860s, the inn's cellar became a stop on the Underground Railroad, a network of safe shelters for slaves fleeing the South. Today, on a busy Saturday, as many as 500 people visit the rustic inn for country fare, including fried chicken, German fries and slaw. Food is served family-style at each table.
Union Oyster House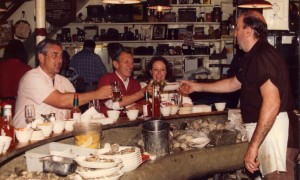 Boston, Massachusetts Housed in a 1716 brick building, Union Oyster House has served oysters, clam chowder and other seafood since 1826. In its early years, statesman Daniel Webster regularly bellied up to the U-shaped mahogany bar for platters of raw oysters consumed with tumblers of brandy and water. Another regular, President John F. Kennedy, has a wooden booth named in his honor. The seafood house is steeped in history and lore, including a claim that the toothpick was first used in the United States at the National Historic Landmark. Along with seafood, the restaurant serves traditional New England fare such as Boston baked beans and Indian pudding.
Antoine's Restaurant
New Orleans, Lousiana Before Antoine Alciatore began dishing up French-Creole cuisine at his restaurant in 1840, most meals at public tables were basic offerings of boiled or roasted meat, fowl or fish without sauces. Alciatore introduced culinary delights such as chicken creole, crawfish étouffée, and shrimp rémoulade and helped make New Orleans a world-class dining destination. In 1889, his son Jules created oysters Rockefeller, a rich, green dish the color of money and named for oil magnate John D. Rockefeller. Today, the founder's great-great grandson Rick Blount, 56, continues the family's tradition at America's oldest family-run restaurant.
Tadich Grill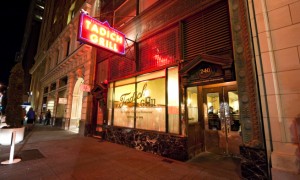 San Francisco, California Established during the Gold Rush of 1849 as a coffee stand in a tent on a bustling wharf in San Francisco Bay, the relocated grill remains a hubbub of activity with diners often lined up waiting for a booth, table or a stool at the 80-foot-long counter. Reservations are not accepted at the no-frills restaurant, which claims to be the nation's first eatery—since the 1920s—to grill seafood over mesquite charcoal. Although its fresh seafood has been reeling in customers from the start, Tadich Grill's extensive menu includes steak, lamb and corned beef hash.
 Hays House
Council Grove, Kansas Located along the Santa Fe Trail, Hays House Restaurant has fed hungry travelers since 1857. Seth Hays, the town's founder and great-grandson of Daniel Boone, built the log building, which remains part of the restaurant today. Fried chicken, ham and from-scratch fare are trademarks at the eatery, which was frequented by U.S. Cavalry Lt. Col. George Armstrong Custer during the 1860s. When a 2011 fire threatened to permanently close Hays House, 25 residents chipped in and bought the beloved landmark.
Tags: restaurant