Christmas in Southern Illinois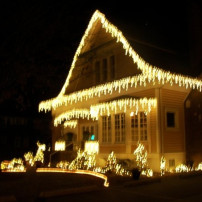 Now is the Time to Book your Christmas Party at Mary's!

We all hate to see Christmas decorations going up in October in the retail stores, making it difficult for us to relax and enjoy the beautiful fall celebrations and weather; however, if you are planning a Christmas get-together with your office, your family, or just that traditional drinks and dinner with friends, now is the time to book it!  Reserving a table or a room at Mary's ensures that when that hectic time of year does finally get here, you have nothing to worry about.  We have the decorations up, the stockings hung, the cranberries stewing for our famous Cranberry Daiquiris, and your spot ready and waiting for your arrival.  Early booking makes it easier to plan, and it is more likely that you will get the time and table that you desire.  So make that reservation, and then take some time to savor what Southern Illinois  has to offer you in this season – whether it's a bonfire, a trip to the wineries, a football game, or a big pot of soup after returning from the pumpkin patch. Happy Fall, and we hope to see you in December!