Making Mary's a Tradition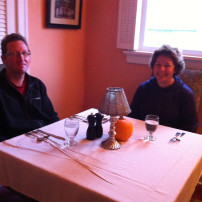 Here at Mary's Restaurant and Bed and Breakfast, we were visited recently by our longtime friends, Kelvin Joyce and Frances Schmechel.  Kelvin and Frances hail from New Zealand, and they are annual visitors to Mary's Restaurant and Bed and Breakfast. They return to Southern Illinois every year to visit Frances's father Frank, who lives in Herrin.  They have established a tradition of staying with us at the bed and breakfast, and usually enjoy at least one meal at Mary's with their family while here.
Frances says, "Thank you for an amazing dinner with my family – it is one of the best times we have had together in years!"  Kelvin left this in his farewell note to us, "Mary's is a fantastic place to stay. If you want to feel good, then you are at the right place. I highly recommend breakfast (for B&B guests) and dinner. The service is exceptional, and I will always come back."
We appreciate their kind words, and we value loyal customers like Frances and Kelvin.  We are honored when our guests make Mary's a tradition. Our goal is exceptional service for each and every customer who visits Mary's Restaurant and Mary's Bed and Breakfast. Our wish is that every visitor has such a memorable and enjoyable experience that they come back to see us often.
Contact us to make a reservation for dinner soon, or stay at our bed and breakfast for a weekend getaway. Make Mary's a tradition for memorable moments with your family and friends.