Our Restaurant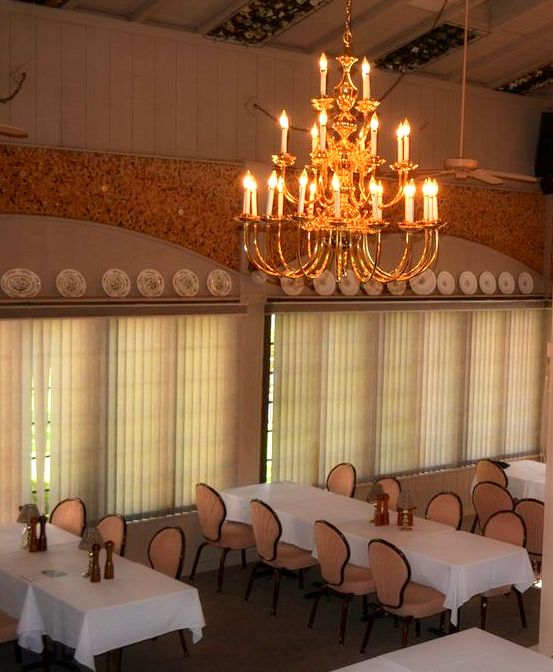 Seating by a fireplace? How about an intimate table for two? Planning a small party? A private party for fifty or a rehearsal dinner for over one hundred? A business function?
For the ultimate in private dining, may we recommend our upstairs "Owner's Table" dining room. With seating arrangements of 2 to 18, this room has additional amenities available, such as fine china place settings, Grand Baroque sterling silver flatware and candelabras, making it the perfect spot for any extravagant dinner occasion.
For business meetings of any size, we can provide teleconferencing, video teleconferencing, slide, overhead and power point presentation, LCD projection with screen and laser pointer. TV, VCR, flip chart presentation board, mobile podium and sound system are also available. We can set up speaking, show and entertainment arrangements to compliment your event.
Mary's also provides catering for small at-home dinner parties, as well as large banquet functions.
Mary's gift certificates are available for purchase in person or by telephone in any increment over $25.00. They can be sent to you or your recipient.
Our Main Room and Library each seat 25 comfortably. The Atrium can accommodate 70 and seating for 120+ can be arranged throughout the restaurant.
Mary's is smoke-free for your health and comfort.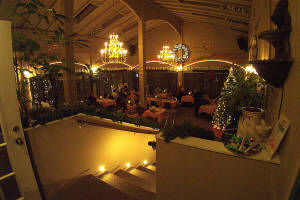 The Atrium
The Atrium was added in early 1993 for additional seating capability with regard to group functions, wedding parties, business meetings, rehearsal dinners, wine tastings and other special events. It quickly became a favorite, having unique 20-foot, skylighted ceilings. this room has a comfortable, open-air feeling, regardless of group size or function.
The Atrium can be as cozy for two as it is comfortable for 90, with the customary fine dining features expected by our guests. Traditional fine dining comfort, artfully integrated with the many requirements of large group functions, has made this room the choice for many special events due to its various seating arrangements and styles.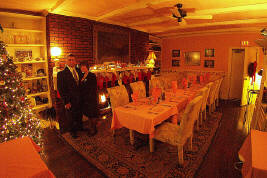 <
The Library
The Library is pure comfort with class. From the spike-planked hardwood floor to the hand-made bookshelves on both sides of the fireplace, richly historic comfort is felt throughout the room. Just perfect for that cozy evening for two at a fireplace table, or a small group of 6-22 desiring a little privacy for the evening.
"Absolutely beautiful" is the customary compliment with regard to seating in the Library. A favorite seating of many at the cozy fireside bookshelf tables, the bookshelves hold treasures and unique print publications, as well as remembrances of times past.
During the Christmas season, the mantle is interestingly decorated and employee stockings "are hung by the chimney, with care".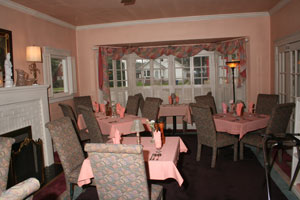 Main Dining Room
The "Main" is our most requested dining room. It is as comfortable in the summer months, with the "bay window" and "french door" tables leading requested seating, as in the winter, seated by a cozy fireplace table.
The remarkably preserved Victorian style creates an ambience "just right" for that special evening.
Lunch seatings are treated to the luxurious feeling of trace sunlight playing upon warm peach, mauve and complimenting tones which provide a somewhat "aristocratic" aura. You find yourself thinking of the families who have enjoyed the comfortable feeling afforded.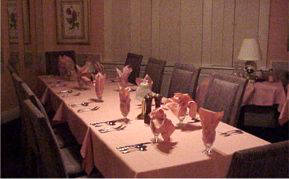 Owner's Table
The Owner's Table is the place for an exquisite dining experience, unparalleled in this area.
If you need a place to discuss private business, or are just too embarrassed to get down on one knee in front of everyone and pop the question, this is the place for you.
Tables may be set in a variety of fashions, each providing the level of comfort and style you choose for your guests.
Appropriate arrangements for 2-14 in the ultimate fine dining atmosphere.
We welcome your most special requests with regard to reservation of this dining area.
Tree Room
The Tree Room is such a unique dining area for 2-8 guests it is only less requested by group size limitations. It has become a favorite of couples and smaller groups desiring a little more private dining.
Preserved traditionally, as with The Main, it is windowed almost entirely with french doors. The rear window provides a slightly elevated view of the Atrium.
Luncheon guests are always comfortable in the Tree Room, with sunlight glimmering through the huge outside trees and french door window panes.
Multimedia Room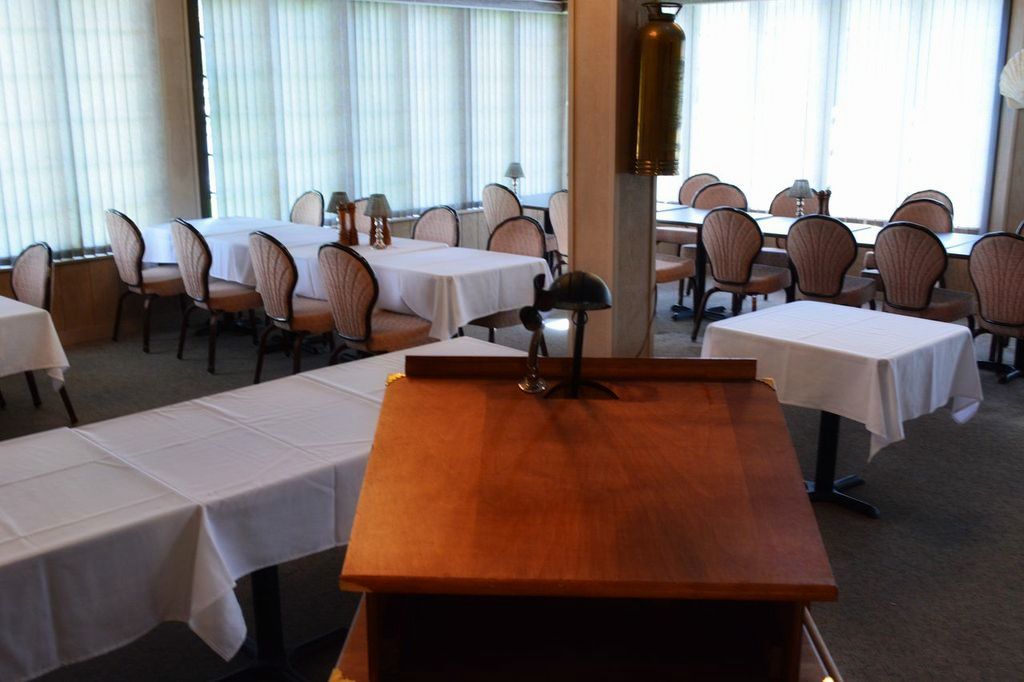 We have several audio/visual aids available for rental:
35mm Slide Projector with wireless remote and screen ($40)
Overhead Projector with screen ($30)
LCD projector (SVGA) ($200)-Includes screen
Laptop Computer ($100), or Wireless Mouse ($10)
Teleconferencing Speakerphone ($50 + $10/hr phone line)
Screen Only (6'X 8′)-$20, or (4'X4′)-$10
Big screen (60") television ($100), or 27" television ($20)
4 Head VCR with remote ($15)
Podium with laptop stand, built in amplified microphone, or wired/wireless lapel microphone ($60)
Amplified audio system w/ wired or wireless lapel microphone ($30)
Flip chart with easel and markers ($15)
Dry erase board with easel and markers ($15)
Power Strips & Extension Cords -available at no cost
Laser pointer ($5)
Please check with your speaker prior to your program to see what your needs will be. If you tell us you need something, we will have it set up, checked out, and ready for use (We always carry extra lamps and batteries for all of our equipment-even the $400 LCD lamp). Once we set it up, it is rented whether or not your speaker uses it. You are welcome to bring your own equipment as long as it is personally or company owned. We do not allow outside rental equipment.